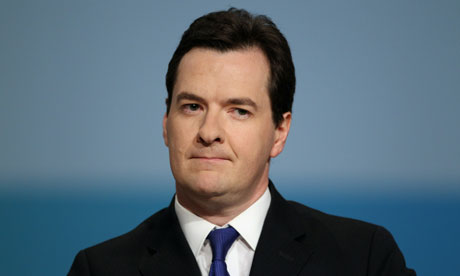 So, your government has done an unpopular thing.
It's also done a stupid thing, and a stupid and unpopular thing. How to get out of the mess?
The unpopular thing: You've increased the duty on fuel.
The stupid thing: Despite making deficits your number one priority, you've screwed up, so borrowing requirements are still too high.
The stupid and unpopular thing: You've cut the top rate of tax on the rich in the middle of a recession.
Change any of these things and you'll be accused of executing a U-turn. Such is life, and politics, and being yelled at.
So what to do?
"Aha", says the brilliant strategist. "I shall reverse the unpopular thing. This will expose me to accusations of hypocrisy, because I have said reducing the deficit is really important, but who cares? It is popular, and no-one cares wherefore a popular thing is done."
But they do care, because merely undoing unpopular things strikes at the heart of your absolute number one priority.
If ways of getting money into the Treasury are unpicked because they're unpopular, the Brilliant strategist won't have any meaningful agenda left. He urgently needs a way of getting money in which is not unpopular, and preferably, also not stupid. .
So why didn't the brilliant strategist take the obvious way out?
Simply stop doing the other unpopular thing, which is going to cost you £150 million*.
It's an obvious, easy move. Put off the 50p Tax rate cut for three years. Use the money to fund a reduction in fuel duty now.
Blame the shift on the Eurozone crisis, and the need to help family budgets today, not growth tomorrow.
OK, maybe such a policy, being neither unpopular nor stupid, doesn't appeal to the brilliant strategist. If he really wants to do something stupid and popular, he could find some of the extra money needed from squeezing benefits bills (he just increased benefits by 5.2%, just as inflation is falling, remember, so he's even got an excuse for a one off lower increase next year.)
Personally, though, I favour being mean about gas guzzling company cars a year earlier than planned, and increasing the £2million home tax to 10%. "Broadest shoulders", and so on. "wealthy contributing to family budgets in practical way" Save the stupid welfare stuff for the election campaign. "It's right we put hard working family budgets first"
Then, you can point out it all balances, more or less.
Oh, and since the stupid and unpopular step of cutting top rate tax in a recession is unfathomably popular among your own supporters, you can remind them you'll still be doing it in three years time, when you'll have the money to fund some stupid but popular things at the same time.
Now you're only doing one stupid thing, and no unpopular things. Hooray!
So why doesn't the "Brilliant strategist" do this, since he's being accused of U-turning anyway?
Because a chap has his pride, I suppose, and lots of little u-turns seem to hurt less than one big one. Trouble is, if you're not changing your mind about the right thing, changing your mind about everything else will do a fellow very little good in the long run.
Mr Cameron, the misplaced pride of the man next door is costing you votes. How long are you going to put up with that?
* The various costings can be found in Table 2.1, p50 here. First 18 months of the 45% tax rate – £150m and bringing forward changes to Company car tax c£500m. Rough figures, but you get the picture.